Homeschooling older kids while having preschoolers can create a lot of hectic moments in a mom's life. I know--I've been there and done that! So has Kendra Fletcher from
Preschoolers and Peace
who has written an ebook for mom's in this situation called
Preschoolers and Peace: Homeschooling older kids with success while loving the little ones at your feet
.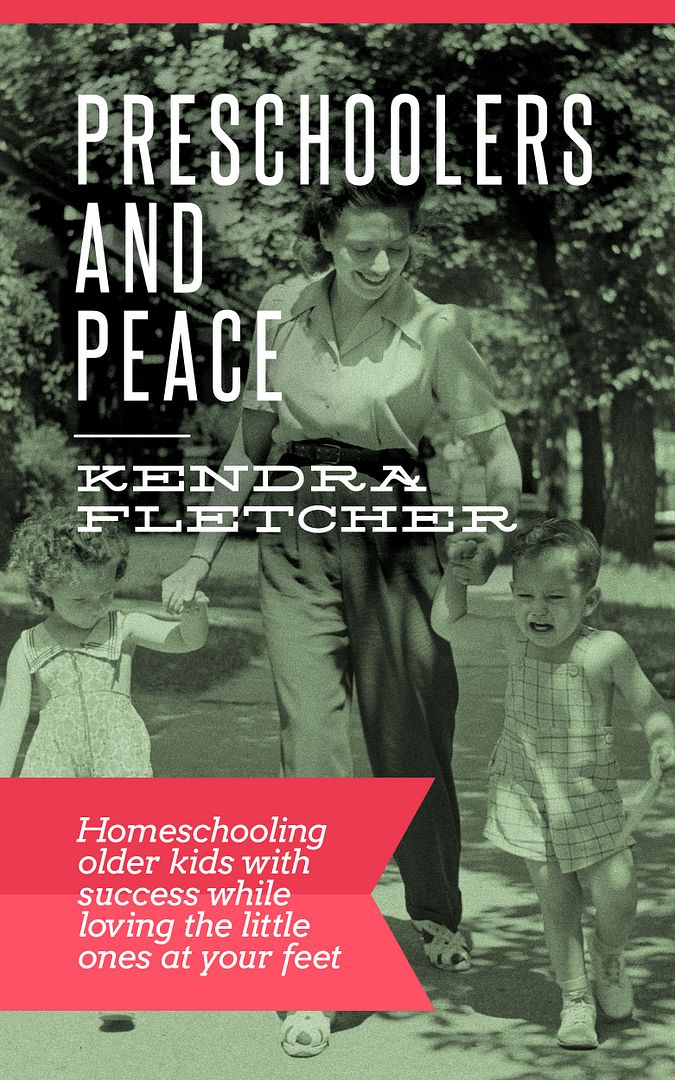 Kendra Fletcher writes from experience--over 16 years of having preschoolers in her home. In
Preschoolers and Peace: Homeschooling older kids with success while loving the little ones at your feet
is a short e-book compiled from her site, Preschoolers and Peace. It includes 14 chapters that cover an array of topics. The chapters are easy to read and are filled with encouraging words and easy to implement ideas. Chapters include such topics as:
What a Homeschooling Mom Needs
Preparing Yourself to Homeschool Older Kids With Little Ones Underfoot
Planning Around Preschoolers
How Do I Keep Them Busy?
What Does a 2-Year-Old's Day Look Like?
How Do I Get Any Preschooling Done?
How Not to Just Kill Time
Circle Time, or How We Pull the Little Ones In
Preschool Boys
When All of Your Kiddos Are Preschoolers
Preschool Chores
Planning for Preschool
When Mama is Worn Out (or Pregnant)
Before sharing ideas on how to balance preschoolers and older kids, the author first talks to moms about the importance of keeping the Gospel as her center and to find her identity in Christ rather than in homeschooling her children.
She then talks about how preparation is the key to successful homeschooling before heading into the nitty-gritty of planning with preschoolers. She shows the benefits of making a schedule and how to use it to keep the littles busy. Her ideas on scheduling also come with great advice on how a schedule is a tool and the importance of making necessary adjustments when life calls for it. She includes sample schedules along what her schedule looked like after she adjusted it.
She lists over a dozen activities to do along with items that can be used with the activities. She shows how to implement circle time with your preschoolers and older kids along with a list of chores that preschoolers (and bigger kids) can do. There are a lot of tips and suggestions for dealing with preschool boys, dealing with all preschoolers, and filling in little moments of time with teaching moments.
She sums it up by encouraging worn out, tired, or pregnant moms to reassess her situation and make sure what she is pleasing to God rather than others. She includes a handy section on different ideas for Meal Planning and how a meal plan makes daily living a whole lot smoother and ends the book with a list of resources and links for each chapter.
I was able to
review
Kendra Fletcher's books Circle Time: Plan the Best Part of Your Homeschool Day last year which I really enjoyed and have been able to implement in our homeschool so I knew that I would probably enjoy and glean from
Preschoolers and Peace: Homeschooling older kids with success while loving the little ones at your feet
even though I technically don't have a preschooler.
This is not a long book, I read it in the car on our trip home from vacation, yet it was an encouraging read and a few times I was convicted! Though my daughter is past preschool and doing school work she still has a lot of time on her hands and many of the ideas listed are ones that she would be interested in doing. This book giving me some inspiration to put a few more fun activities in her schedule.
If you are homeschooling and trying to find the fine balance of working with older kids and keeping you preschoolers happy I highly recommend checking out
Preschoolers and Peace: Homeschooling older kids with success while loving the little ones at your feet
by Kendra Fletcher.
Head on over to
Preschoolers and Peace
to get a copy for
$2.99
.
Preschoolers and Peace on Social Media
Facebook:
https://www.facebook.com/PreschoolersandPeace
Twitter:
https://twitter.com/KendraEFletcher
Pinterest:
http://www.pinterest.com/kenj/
Google+:
https://plus.google.com/+KendraFletcher/posts
You Tube:
https://www.youtube.com/user/preschoolersandpeace