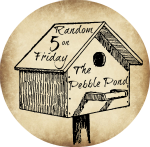 1. Destini required help for her sinus infection. 2. The "Copycat"
3. Destini & Chantry's books for Ambleside Online Year 5.
4. Delani painting at Co-op. 5. Yeah! They survived their
first week of school. Celebrating with our traditional
ice cream cone celebration.
1. Started off the week with Destini having to go to Urgent Care to be diagnosed with a sinus infection. She was pretty much wiped out for the week-end and Monday.



2. If that wasn't bad enough our ants returned and invaded the kitchen and then the garage. The owner of our house had to find a new exterminator who can't come until this Tuesday. Thankfully, after an almost whole jar of bay leaves I did get rid of them out of the kitchen. They are still parading around out in the garage. I'm trying to ignore them!

3. This was a first full week of school. Sunday evening I ran into some problems with my scheduling sheet that I use with Chantry and Destini. It had to be rearranged to make room for the Co-op we are attending this year. I still have writing to add in for Caleb and Destini. Hopefully we will get these started next week at least for Destini.

4. Caleb and Destini are doing a speech class in Co-op. Destini HATES to get up and talk in front of people. Well, she had to give an impromptu speech and you know what? She did it (and lived to tell about it)!!!!
5. Even though we had a successful week, it still was touch in getting the kids to be focused on their work. I felt like I was nagging all week long which makes me feel frustrated and grumpy. This is not the way I want or like to be. After a few issues with character, I decided we are going to focus on the book of Proverbs for awhile. I think it something we ALL need!

6. Okay, I know I said five, but I have a fun book recommendation for you and your kids:

Five Little Monkeys Reading in Bed

by Eileen Christelow. Cute, cute, cute!!!! This book just joined our other two favorite Five Little Monkey books--

Five Little Monkeys Jumping on the Bed

and

Five Little Monkeys Sitting in a Tree

.