A couple of years ago I heard a talk done by Denise Eide about
The Logic of English
. I then read her book
Uncovering the Logic of English
. Now for someone who has had a love/hate affair with phonics I think she has done an excellent job of explaining the importance of phonics.
Phonemic Awareness

The Sounds of A-Z

Writing the lowercase letters in manuscript or cursive

Consonant-Vowel-Consonant Words

Consonant Blends

35 High Frequency Words

Fluency

Vocabulary

Reading Comprehension


I received:
Foundations A Teacher's Manual and Student Workbook

Basic Phonogram Cards

Rhythm of Handwriting Cards

2 sets of Phonogram Game Cards

Student Whiteboard

Rhythm of Handwriting Quick Reference Card

Phonics with Phonogram App
The Teacher's Book is very straight forward to use. It starts with the Scope and Sequence. Then goes on to a couple of pages that covers topics as supplies needed, should you use cursive or manuscript, reviewing lessons, speech tips, terminology, and a list of the phonograms. After five lessons there is a review lesson with instructions on how to assess your student for each review section.
It then delves into the lessons. The beginning of each lesson lists the objectives for the lesson and the materials needed. Each lesson is divided into two parts: Phonemic Awareness and Handwriting. The lessons are scripted for the teacher with boxes along the side filled with multi-sensory activities, book suggestions, and teacher tips.

Delani checking to make sure I know my sounds!
The Student Workbook has colorful sheets that go along with the phonemic awareness and handwriting activities. The Basic Phonogram cards and Game cards are made of sturdy card stock and will uphold to a lot of use. The Rhythm of Handwriting cards are also sturdy with the letter being raised off of the paper and having a rough surface. The whiteboard is nice and large with one side having just one handwriting line so the child can make the
letter big and the other side having smaller lines.
This was Delani's first exposure to a "reading" program so I took it slow with her. She did very well with phonemic awareness sections. In the first lesson she learned about voiced and unvoiced sounds. This kind of confused her at first and she had hard time figuring out the difference when she touched her own throat, but I would let her touch my throat and she began to understand.
We then worked on blending sounds together. I would say a word with the sounds segmented and she would find the picture in the workbook, say the word fast, and then circle it. She picked up on this very well and if she struggled I would say the segmented sounds a little faster until she got it. She did find it difficult to segment a word back to me, but I know with time she will get it.
She also started to learn phonogram sounds. Again, this is her first exposure so I haven't expected mastery right away. We keep reviewing the cards over and over and now after a few weeks she can say many of them without me reminding her of the sounds.
Delani hit a wall when it came to the handwriting portion. I had picked manuscript since she writes letters all of the time and I thought the cursive would frustrate her. I am going to be honest here and just say I am not a fan of slanted handwriting. I knew cursive handwriting would frustrate her and since the manuscript handwriting is slanted she was very resistant to doing it.
We used the Rhythm of Handwriting cards and the whiteboard, but it was all to no avail. She got to the point that when she saw a handwriting page she would beg me not to make her do it. So basically I just skipped over the handwriting portion for now. I may go back to it later and start her doing the strokes and use sand first before we proceed to the whiteboard or paper.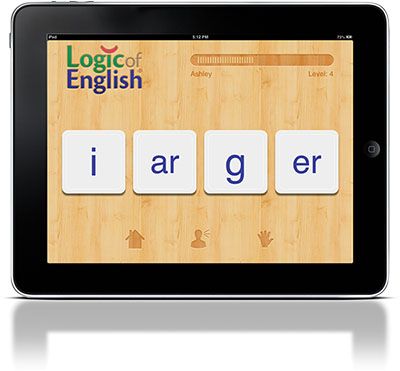 The last item the she used was the Phonics with Phonogram App for iTunes. This app offers 10 levels of review for all the phonograms. It also offers a custom level building which is a great tool for reviewing phonograms that are causing trouble or they are just learning. It also tells the progress your child is making on learning the sounds and when they master a sound they get a star by it.
Now again because she was learning this could only be used to a certain extent. This will be a great tool as she learns more sounds. Nevertheless, she didn't let know knowing the sound hinder her from playing. I also worked through several levels to see how it worked and I am happy to report I have mastered one sound! (Hmm, maybe mom needs to work through this program first by herself.)
This is a great little tool for helping a child review their sound and it takes pressure off of mom so she don't have to constantly review with the cards.
Overall, I am very happy with
Foundations A
and I will continue to use it with Delani. I personally have found the material that
Logic of English
provides to be the most helpful information I've come across for phonics--for once it makes sense!
Foundations A can be purchased at
Logic of English
. The prices are as follows:
Also, check out the free
Teacher Training Videos
by
Logic of English
. It is a fabulous resource!