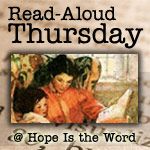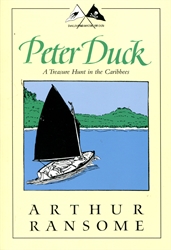 Book Description:
The third book in Arthur Ransome's wonderful series for children, Peter Duck takes intrepid explorers John, Susan, Titty, and Roger Walker and fearsome Amazon pirates Nancy and Peggy Blackett onto the high seas. Under the command of the infamous Captain Flint (Nancy and Peggy's Uncle Jim), the children brave a real-life pirate and his cutthroat crew, fog, sharks, and the ravenous crabs of Crab Island in the search of buried treasure.
My thoughts:
We are slowly making our way through through
Swallows & Amazons Series
by Arthur Ransome and have made it to the third book
Peter Duck
. After finishing
Swallowdale
I had received a few comments to skip it and go ahead with the fourth book. I wasn't sure what to do since we already had the book and the kids were excited to read it. So I decided to we would read it and if it was a bust it wouldn't be the end of the world.
In Peter Duck we meet up again with the Swallows and Amazons who are heading out on an voyage with Captain Flint. After signing up an old seaman, Peter Duck, to go along on their voyage they have a few run in with a dark, pirate-like man named Black Jake. They soon learn that Peter Duck had seen treasure buried on an island in the Caribbees when he was a young lad, and Black Jake is dying to get his hand upon it even going to the extent of attempting to kidnap Black Jake. Thus begins their great adventure of sailing to the Caribbees and looking for the lost treasure
I am happy to say that
Peter Duck
ended up being a fun and exciting read. A book that includes a real pirate, an old mysterious seaman, a treasure hunt, and a host of natural disasters kept us sitting on the edge of our seats. Yes, I will admit that to an adult reader it may be a little too fantastical, but Arthur Ransome did a great job of making it seem like it could happen and in the end makes it a very appealing adventure. Another great family friendly read aloud which ranked high with my kids.
____________________________________

Others we have read in the Swallows and Amazons series:
See what others are reading aloud over at
Hope is the Word