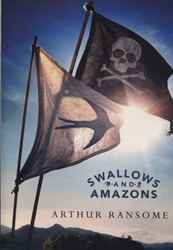 Book Description:
The first title in Arthur Ransome's classic series, originally published in 1930: for children, for grown-ups, for anyone captivated by the world of adventure and imagination. Swallows and Amazons introduces the lovable Walker family, the camp on Wild Cat Island, the able-bodied catboat Swallow, and the two intrepid Amazons, Nancy and Peggy Blackett.
My thoughts:
I first read
Swallows and Amazons
by Arthur Ransome over five years ago when my oldest was going through
Ambleside Online Year 3
. Now it was time to re-read it to the two middle kids. We ended up starting it at the end of last school year and unfortunately when summer came our read aloud time vanished. We finally were able to pick up again a couple of weeks ago and just finished it today.
This story was just as exciting this time around as it was the last time I read it. We first meet The Walker children--John, Susan, Titty, and Roger as they receive permission to take their little sailboat, The Swallow, and have a camp out on a nearby island. Thus they begin a grand adventure that is filled to the brim with fun and adventure.
The first part of the story basically tells about the set up of their camp, getting settled in, and then do some exploring. Eventually they meet Nancy and Peggy Blackett who are sailing the Amazon. This calls for an all out war includes hiding out, sailing at night, stealing ships, and possibly overhearing real pirates! As the climax of the story rises the Swallows and the Amazons join forces to solve a mystery, fight the retired pirate Captain Flint, and discover treasure. Eventually their summer comes to an end, but not without a promise that they will meet the next year for more adventures.
This story does start off a little slowly, but when the pirate wars starts it takes off with rip roaring fun. There is a lot of nautical terminology that at times was just hard to understand since we aren't into anything nautical, but I don't think that detracted anything from the story. There are some very funny moments, so funny that I was having a hard time reading it aloud at times.
I think children can really relate with
Swallows and Amazons
, especially when the children start using their imaginations when talking to the "natives" (townspeople), naming landmarks, being Robinson Crusoe, or fighting pirate wars. When it was finished I wanted to go camping with the Swallows and Amazons! Overall, this is a high-spirited and fun not-to-be-missed story that is a great read aloud for young and old alike.
Some teasers:
She ran up to the camp, and there was mother looking at the empty tents.
"Hullo, Man Friday," said Titty joyfully.
"Hullo, Robinson Crusoe," said mother. That was the best of mother. She was different from other natives. You could always count on her to know things like that. p. 189
--------------------------------
"We'll tell him," she said. "Let him put a padlock on it. Let him put ten padlocks. We'll smash them with crowbars. I'll tell him now, on the way home."
"But you can't," said John. "He's gone away.
"Gone away?" said Nancy, as she pushed Amazon off.
"I saw him go. He took his parrot.
"Well, he's back then," said Nancy. "We saw his light in the houseboat on our way here last night. The cabin windows are all lit up.
"We can't tell him now," said Peggy.
"Why not?" said Nancy.
"Because we're at home in bed." said Peggy.
"Shiver my timbers, so we are," said Captain Nancy. p. 238



--------------------------------
"Real war?" said Nancy.
"Blood and thunder," said Captain Flint. "Three o'clock to-morrow, and I'll be cleared for action. I'll be ready to repel boarders, or sink both your ships, or hang the lot of you at the yard-arm, or be captured as a Spanish brig or sunk as a Portuguese slave...anything you like." p.283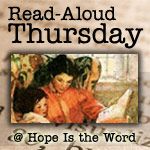 See what others are reading aloud over at
Hope is the Word
.
This was also one of my selections for
The Classics Club
.
I am linking up over at: