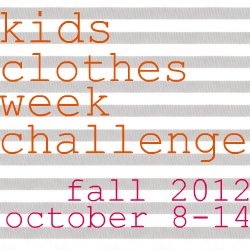 Well, I don't know how much time I have for this, but I'm going to attempt this. This event is hosted over at
elsie marley
. Here's what it is about:
Kids Clothes Week Challenge is a bi-annual event here on elsie marley where I challenge you to sew one hour a day, each day for 7 days. The idea is that we all have the urge to sew clothes for our children, but we don't always give ourselves the time to do it. If you commit to sitting in front of your sewing machine, or tracing patterns, or cutting fabric, for one hour each day, then at the end of the week you will have some very well dressed kids. And a very proud mama too!

My main goal is to make more skirt for the girls. I have some very lovely corduroy that would look a lot better on them then in my closet! If interested read more
here
.