Book Description:
The second title in Arthur Ransome's classic series for children, for grownups, for anyone captivated by the world of adventure and imagination. SWALLOWDALE (originally published in 1931) follows the Walker family and friends through a shipwreck, a camp on the mainland, a secret valley and cave, and a trek through the mountains. Swallows and Amazons Forever!
My thoughts:
We just finished our latest read aloud,
Swallowdale
, the continued the adventures of the children that we were introduced to in
Swallows and Amazons
. In this book the Swallows and Amazons are excited to meet up and camp at Wild Cat Island for their summer break. Unfortunately, several things happen that put a kink in their plans. First the Amazon's (Nancy and Peggy) Great Aunt is visiting and is making the whole family miserable by doing everything properly. This also affects the availability of Captain Flint. If things aren't bad enough the Swallows happen to get in a shipwreck which puts their sail boat out of commission for awhile.
Though things are looking dark, Titty and Roger discover a nice camping spot on the mainland that includes a cave. After receiving their mother's permission they move into "Swallowdale" and begin to experience a different sort of adventure. Soon they are having many adventures including going on expeditions, climbing Mount Kanchenjunga, getting lost in fog and much more. The adventures never end when the Swallows and Amazons are together.
Swallowdale had my kids interest right from the first, though I wasn't so sure when I began. I didn't have to worry for long. Soon I was enjoying it as much as the kids as we listened to all the wonderful adventures that the Swallows and Amazons experienced. Reading this book makes me kind of sad that childhood has changed so drastically. These books show what childhood should be like.
I do want to mention a small section where a reference to a voodoo doll is mentioned and then Titty tries to make a candle-grease doll and to make magic on the great-aunt. She scares herself into thinking she may have killed the great-aunt and receives a scolding from her sister. Later she confesses to her mother who also admonishes her. This is not dwelled on for very much of the story and my kids were aghast that she would even considered doing it.
Swallowdale
was a delightful read and my kids are already looking forward to next in the series,
Peter Duck
.
Some teasers:
There was nothing of the Swallow to be seen, except a couple of floating oars and one of the knapsacks, drifting in between the Pike Rock and headland. "She's gone," said Titty, standing dripping on the rocks and looking at the place where Swallow had been. "We had to swim for our lives," said Roger pp. 73-74
A black horse was moving at a solemn trot, pulling an open carriage. Two grown-up people and two girls were sitting in the carriage.
One of them's Mrs. Blackett," said Susan.
"The other must be the great-aunt," said Titty, "but those can't be the Amazon pirate."
A very prim elderly lady, holding a small black parasol over her head, was sitting stiffly beside Mrs. Blackett. In front of them on the little narrow seat behind the dirver, facing the grownups, were two girls in flounced frocks, with summer hats, their hands in gloves, clasped on their knees. It was a dreadful sight. As the carriage disappeared, the explorers looked at each other with shocked eyes. pp. 155-156
A minute or two later, after a last look round from the top of the world, the six explorers, who had climbed Kanchenjunga as Kanchenjuga should be climbed, wee hurrying down the mountain at a good jog-trot. p. 324
"That settles it," said Captain Nancy. "They weren't there this morning, or we'd have seen something. We mustn't let them settle down. We mush drive them out to-night. We must give the no sleep. We must scuttle their ships. We must drive them into the sea." p. 425



Swallows and Amazons review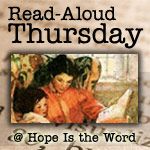 See what others are reading aloud over at
Hope is the Word
.