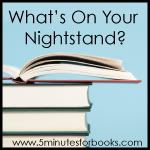 For July:
From my May Nightstand, I read:
Heart of Glass
by Jill Marie Landis (
review
)
The Story of the Amulet
by E. Nesbit (
review
)
The Singing Sands
by Josephine Tey (
review
)
A Praying Life: Connecting With God In A Distracting World
by Paul Miller (
review
)
The Write Start: A Guide to Nurturing Writing at Every Stage, from Scribbling to Forming Letters and Writing Stories
by Jennifer Hallisey (
review
)
I also read:
As You Like It (No Fear Shakespeare)
by William Shakespeare
Freckles
by Gene Stratton-Porter (
review
)
A Girl of the Limberlost
by Gene Stratton-Porter (review coming)
The Jungle Books
by Rudyard Kipling (
review
)
Five Miles South of Peculiar
by Angela Hunt (
review
)
Winter Cottage
by Carol Ryrie Brink (
review
)
Back to Basics: Raising Self-Sufficient Children
by Barbara Frank
The Learning Coach Approach
by Linda Dobson
Lit!: A Christian Guide to Reading Books
by Tony Reinke (
review
)
The Pioneer Woman Cooks: Food from My Frontier
by Ree Drummond (
review
)
Passionate Housewives Desperate for God
by Jennie Chancey & Stacy MacDonald (
review
)
I listened to:
Mrs. Pollifax, Innocent Tourist
by Dorothy Gilman
Mrs. Pollifax Unveiled
by Dorothy Gilman
My Reading Life
by Pat Conroy
Last month I moaned that I hadn't read very much, and I guess I thought I had to make up for it this month. It also could explain why I feel a little blah about books right now, especially when it comes to fiction. My
The Classics Club
list is looking better and better everyday since the newer fiction isn't appealing.
See what others have read over at
5 Minutes for Books
.