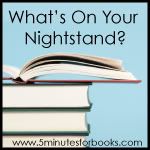 Another month is almost gone, but I had a great month of reading so I'm happy. Not only did I get quite a few books read, but I was able to listen to a pile of them. I found some time to catch up on my ironing (yes, I'm one of those) and I also did quite a bit of sewing which gives me a lot of time to listen. Plus I did quite a bit of traveling back and forth to work and two days of homeschool convention so I had some quality listening time.
I didn't get one July's Nightstand's books finished, so I'm bringing it over to August. It is my only pick for August due to my family and I heading out to visit my parents. I'm only taking my Kindle and I'm pretty sure I won't get much read and that's okay!
For August:
From June's
Nightstand
I read:
I also read:
I listened to:
See what others have read over at
5 Minutes for Books
.