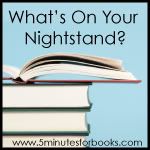 Oh, February where did you go? Into March I go hoping to to get a little more non-fiction going and figuring out what I want to read for fiction. I am feeling very stymied. Hmmm, that may be sign to put a little P.G. Wodehouse on the list. He is always my go-to when I can't figure out what to read. As of right now I'm going to leave my Nightstand a little sparse and see what happens!
For March:
From
January's Nightstand
I read:
I also read:
I listened to:
Ember Falls by S.D. Smith - All my kids listened to this a few months ago and then wanted to discuss it with me. Unfortunately, I hadn't listened to it yet which brought howls. My daughter has pestered me and I finally finished it today. This is a great adventure story and I can see why my kids love it. Unfortunately, I was getting lost which they did their best to help their mother out. I think I need to just order the books and read them.
See what others have read over at
5 Minutes for Books
.