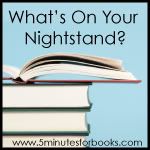 August has come and almost gone, my oldest son was married, my husband and I celebrated 26 years of marriage, and I sent my two middle children to church camp where my youngest son promptly hurt his knee and had to come home. Needless to say I didn't read very much this month and that is okay. We had a lot of fun with family and friends and now it's time to face the fact that summer is coming to an end, which for me means that it is time to start our new homeschool year. This is easier said than done since I haven't planned a thing. My nightstand for September is not very big since I'm sure I'll have my nose in school books for the next two weeks. Of course, I could get a lot of reading time sitting in the doctor's office.
Here is the happy bride & groom!

For September:
From August's Nightstand I read:
I also read:
The Guernsey Literary and Potato Peel Pie Society by Mary Ann Shaffer - This has been on my list to re-read for a while, but when I saw that Netflix had turned it into a movie it received a violent shift to the top of my pile. Honestly, I enjoyed this just as much as the first time I read it. In fact, I haven't had the heart to watch the film.
This Side of Murder by Anna Lee Huber - An okay mystery that got me through the wedding.