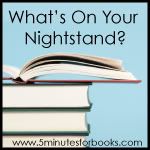 Well, April's Nightstand came and went and I decided to just bypass it since life was extremely busy at the moment. Due to the busyness of life and some of the books I was reading I really was finding reading kind of dull. Thankfully, life has slowed down and I think my reading is picking up. My parents are coming for a visit in June so I'm not giving myself a big stack of books to read, but hoping to just enjoy the moments.
For June:
From
March's nightstand
:
Other books read:
Books I listened to:
Books I didn't read:
See what others have read over at
5 Minutes for Books
.