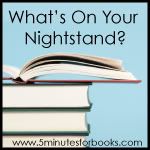 I fell down a Georgette Heyer hole this month. I haven't really found any fiction that interests me so when that happens I rely on Georgette Heyer or P.G. Wodehouse (I just brought home three of his books tonight.) to help me get out of my fiction reading slump. We shall see how that works!
November's Nightstand:
The Bark of the Bog Owl by Jonathan Rogers - I have heard a lot of rave reviews about this series so I decided to check it out. I found this an enjoyable read, though it took me awhile to get into it. I'm not sure if I'll read the rest of the books in the series, but we'll see.
Giddy Up Eunice: Because Women Need Each Other by Sophie Hudson - I love to listen to the Big Book Podcast and Sophie Hudson is one of the co-host. There were a few gems to take from this book, but overall just an okay read.
I also read: