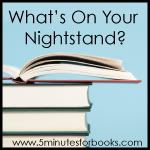 It is a good thing that I did a lot of reading at the beginning of March, because I haven't done much here at the end. Between two vehicles breaking down, running my kids to a church convention for 3 nights, sickness and allergies, and also helping my kids prepare their projects and memorization for an upcoming competition has thrown my life into a violent shift of crazy. Next month we start baseball, so I'm going to keep my Nightstand picks a little on the lighter side hoping that I can make it through them.
For April:
From February's Nightstand I read:
I'm currently reading:
I also read:
I listened to:
See what others have read over at
5 Minutes for Books
.