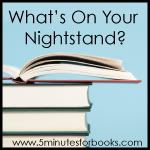 For February:
From December's Nightstand:
I also read:
Mrs. Tim Carries On by D.E. Stevenson - The second book in the Mrs. Tim Christie series. This has been an enjoyable series so far.
The Story Girl by L.M. Montgomery - I picked up The Story Girl since it was late at night and I couldn't get my hands on my pile of books in my own bedroom so I pulled this off of my daughter's shelf. It has been a long time since I read this and it was a worthwhile re-read.
Gates & Fences: Straight Talk in a Crooked World by Lori Wagner - Reading for my Sunday School class.
I listened to:
See what others have read over at
5 Minutes for Books
.