I love how audio dramas can take stories to a whole new level. I recently had the opportunity to review a new Bible audio drama,
Who Created Everything?
, produced by
Wizzy Gizmo
.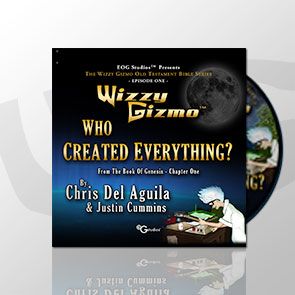 Wizzy Gizmo
produces a series of Bible books, Bible audio dramas, Bible flashcards and more for kids and parents. They strive to present a "factual, historical record of the Bible, in an exegetical and expository way" along with making it family friendly by keeping having the characters display wholesome attitudes, language or actions. Wizzy Gizmo is also a professor who invents interesting and exciting gizmos. He has a great love for God and loves to explore the Bible.
In the audio drama
Who Created Everything?
, target for ages 4-12, we are introduced to Wizzy Gizmo and his pet duck, Quacky, and pet dog, Pepe. Wizzy Gizmo has just created the Gizmovison, a machine that allows the kids to explore any chapter of the Bible.
For the first 26 minutes of the CD, Wizzy Gizmo, his sidekicks, and a group of children explore Genesis 1. They go through each day of creation experiencing different aspects of creation. Throughout the dialogue there is music to enhance the story along with songs interspersed throughout. The second half includes a quiz and a handful of songs and music.
I thought this audio CD was very well done. Even though the story is full of adventure it has a solid Biblical foundation. I really liked the fact that when the kids were covering each day of creation that the portion of Genesis 1 was read. Though the Biblical account of Creation was treated seriously, there was plenty of humor throughout the series including a whole love song to mangoes.
I had Chantry (12) and Delani (6) listen to this. Delani struggled to follow parts of the story at times, which could be attributed to her age and experience in listening to audio dramas. On the other hand, Chantry could follow the story and really liked the it and wanted to know if there were any more. One thing the both agreed on was that they didn't care for the additional soundtracks included on the CD. I know Chantry would have found another story more satisfying than music.
I don't think you can go wrong with investing in this series. It is fun and entertaining all the while teaching God's Word in an exciting way. A downloadable version would be more appealing to me, especially if it offered the option of just purchasing the story.
Who Created Everything?
audio drama is available on CD at
Wizzy Gizmo
for
$14.99
. Don't forget to check out the other Crew Reviews of the Wizzy Gizmo books,
Who Created Everything?
and
In His Image
along with the
Fast Track Bible Pack: New Testament
.
Wizzy Gizmo on social media:
Facebook:
https://www.facebook.com/wizzygizmo
Twitter:
https://twitter.com/wizzygizmo
Pinterest:
http://www.pinterest.com/wizzygizmo/
Google+:
http://www.plus.google.com/+Wizzygizmo
Vimeo:
http://vimeo.com/wizzygizmo