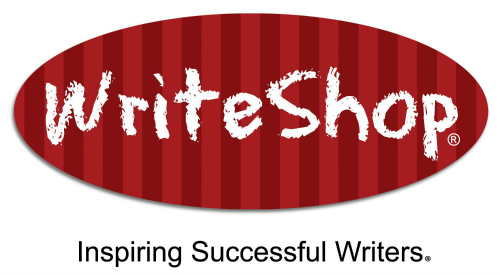 Writing (sigh), it is a subject that can really stress me out. When I teach it to my kids I feel like I need a lot of hand holding. Over the past month Chantry and I have been working through the writing curriculum
WriteShop Junior Book D
published by
WriteShop
which we had received for review.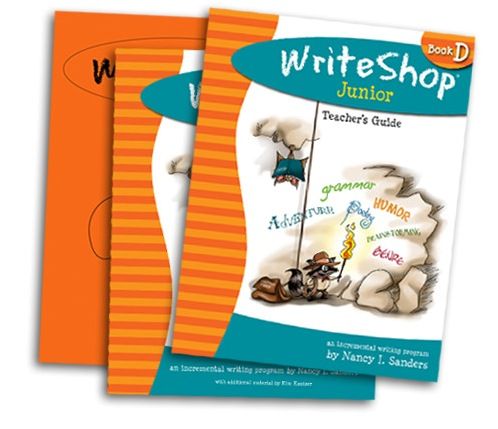 WriteShop offers different levels of Writing--
Primary
,
Junior
, and
WriteShop I & II
. WriteShop Primary is for K-3rd grades and focuses on teaching early writing skills. WriteShop Junior is for 4th-6th grades and introduces the the teaches about different genres, fiction and non-fiction writing, and journaling. WriteShop I & II is for middle and high schoolers and teaches writing through incremental steps.
I received the ebooks for
WriteShop Junior Book D Teacher's Guide
,
Student Worksheet Pack
which is a 2 pack that includes Student Worksheet Pack along with Level 1 Fold and Go Grammar Pack. Book D covers such writing topics as a letter of invitation, haiku, expository writing, and stories of different genres including humor, adventure, science fiction, and more. Skills that are learned are grammar and punctuation, how to brainstorm, how to write a paragraph, self-editing skills, and more.
The
Teacher's Manual
is a necessary component to this writing program. It includes lesson plans, materials and supplies needed, tips and tricks for each lesson including tips from parents, and guided teaching for each lesson.
The
Activity Pack
comes with the Student Worksheet Pack which includes all of the worksheets that are needed for each lesson along with Reading Logs and extra journaling pages. The second component is the Grammar Fold and Go Grammar Pack which all the printables for the Fold and Go Folders and instructions for how to put the folder together and ideas for storage of the folders that you make.
Even though Chantry just finished 5th grade, after reading the placement guide, I decided to put Chantry in Book D since it worked on paragraph skills and how to plan and organize a story. The Teacher's Manual comes with a recommended three week schedule or two week schedule. I followed the three week schedule and found it very doable and not overwhelming in the least.
The three week lesson plan is broken down into these activities spread over a three week period:
Fold and Go Grammar Folder Book/Reading Log
Pre-writing Activity
Model and Teach
Review and Skill Builder/Journal Writing Practice
Brain-storming
Writing Project
Editing and Review
Publishing the Writing Project
Evaluating the Work/Want to do More? (optional)
The Teacher's Manual walks you through each different activity that you will do with your child throughout each lesson. It also includes the hows and whys for each activity. It also includes a material list for each section and suggestions for creating a writing center.
Each lesson starts with doing a Fold and Go Grammar Folder Book. I found these were easy to put together and very doable to work through. One of the Fold and Go books we did was about proof-reading marks which for the recommended age was a very intense lesson, especially if a child is only being introduced to proof-reading marks.
The worksheets for these activities are included in the Activity Pack. Included are other additional activities for the Pre-writing Activity and Skill Builder Activity that have to be prepared by the parent or teacher. Many of these activities seemed to be written to be used with several children and I found the activities too time consuming to make for just one student and usually improvised and did something similar that didn't take as much work. They also offer a Time-Saver Packet for purchase, which would be a big help.
After the student has written their story you then sit down together a go through it and start to edit it. There are several ideas for making editing fun which includes a "Said It, Read It, Edit It Bag", tips for reluctant writers, and of course, the Fold and Go Editing Folder. The student then re-writes their story and "publishes" it by doing different things such as writing it on fancy paper or illustrating their story. There is a different idea included for every lesson. At the end of each lesson is optional activities which encourages the student to use their creative writing skills with the computer.
I will admit that I didn't use every activity the way it was written since Chantry really struggles with the physical part of writing. Many times when it seemed we started the brainstorming part of the lesson that we ended coming up with the whole story at that time. Instead of writing many of his ideas down we spent a lot of time talking about it and if he picked a word or idea that was dull I would encourage him to find a more descriptive word or I would have him stop and think out his character a little better. Other times he had would come up with a great sentence that I would scribble down to use a later point. Since I was his scribe we didn't spend as much time editing because I woul edit as we wrote. I had him write out the story at the end which was his final copy. He was happy for his stories to go in his binder and "publishing" them wasn't that appealing to him.
One of my biggest struggles with using this was having it in the e-book format, especially the teacher's manual. I really needed to hold the teacher's book in my hands. I also had a hard time following the different sections since they listed them by the type of activity followed by the Activity Set number in parentheses which was backwards to my brain. The number first would have been helpful. Many times I went into the next activity and didn't even realize that it was for the next day.
I felt that
WriteShop Junior Book D
helped Chantry to produce some very good writing, but it was not a favorite with either of us. I think some of this is due to what my writing goals are for Chantry and right now my focus isn't on the creative writing aspect. That being said I will probably go through the rest of the lessons and just pick and choose the lessons that I think will be most beneficial for him that will help him build the writing skills I am looking for before focusing on the creative writing aspect. Looking back over what he did I also realized he was further in his writing abilities than what I thought and if he would have been more independent in his physical writing abilities he probably could have done
Book E
.
I do feel that
WriteShop Junior Book D
is a good solid program. I can see it appealing to a child who loves to write more than a reluctant writer. That being said I did like how the lessons are broken down into small, very doable lessons which shouldn't overwhelm a reluctant writer too much, plus it offers hand holding for the mom who finds the subject of writing terrifying. If you have been searching for a writing program this is definitely worth looking into.
WriteShop Junior Book D
along with
Primary
and
WriteShop I & II
are available from
WriteShop
:
Teacher's Guide
-
$45.95
(print) - Recommended/
$35.50
(e-book)
Activity Pack w/Fold and Go Grammar
-
$45.95
(print)/
$35.50
(e-book)
Junior Time Saver Pack
-
$14.95
(print)/
$11.50
(e-book)
Social media links for WriteShop:
Facebook:
https://www.facebook.com/writeshop
Twitter:
https://www.twitter.com/writeshop
Pinterest:
http://www.pinterest.com/writeshop/boards/
Instagram:
http://instagram.com/kimkautzer
Google+:
https://plus.google.com/+Writeshop/