About a month ago I was doing trying to keep my head above water in this thing called life. I felt like I was drowning in just day-to-day living let alone trying to look ahead and attempt to plan for the upcoming school year. About that time along came the opportunity to review new book published by
Apologia Educational Ministries
called
Flourish: Balance for Homeschool Moms
by Mary Jo Tate.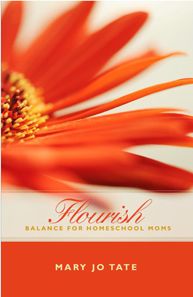 Flourish: Balance for Homeschool Moms
is a book written specifically written to homeschool moms and gets right to the heart of the matter and address issues that I think can be overlooked by many homeschool moms. Many of the topics that are covered include things like:
Time management
Finding balance
Finding peace with the ideal and reality
The FREEDOM Toolbox
Keeping a time log
Establishing a schedule or routine
Setting goals in three major categories
Seven Essential Planning Tools
Establishing boundaries
Letting go of fear and perfectionism
Nourishing your spiritual life and physical body
Training children along with making memories with them
Managing your home
A life of learning
Flourishing as a single mom
Having a home business
How to move ahead and apply the principles talked about
As you can see there is a plethora of topics covered and these only touch the tips of the iceberg. Each chapter has many helpful and doable tips to help a homeschool mom to find that place where they can flourish. At the end of each chapter is a "Take Action!" section with a list of questions answer and actions to do to help apply the chapter. Included in the appendixes is a recommended resources list and a nice selection of planning forms. These forms are available as a download and can be customizable.
I took my time reading through
Flourish: Balance for Homeschool Moms
and really spent time dwelling on it. I took a notebook and wrote out the "Take Action!" portions working through the activities, since I tend to print off papers and lay them over the place. I'll admit that some of the topics are ones that I've read a lot about, but I did enjoy reading about them from the author's perspective.
For me the beginning of the book was the heart of the book. The chapters that dealt with changing my mindset, changing my behavior, using my time effectively, setting goals, planning tools (including the Stop-Doing List), adjusting my attitude, and taking care of myself really stood out to me. I really needed to hear this. I know sometimes I let myself go on auto-pilot and forget that I need to stop and set my course again. This book made me realize that I've been on auto-pilot way too long.
I still have a long ways to get my course straight, but I am slowly working on it. One thing that the author recommended is to keep a time journal, which I plan on attempting once life gets a little more normal. I know this will be very challenging for me especially since I'm pretty sure that I won't like to see what I'm spending my time on. Another thing I have implemented is being more intentional in organizing my monthly and daily plans. I started using an to-do list and task management app that I already had on my phone that wasn't being used.
It is hard as a homeschooling mom to find that key to balance and I think it is something that a homeschool mom will always have to work hard at.
Flourish: Balance for Homeschool Moms
is a book that encourages the homeschool mom in finding and maintaining that balance. Highly recommended!
Flourish: Balance for Homeschool Moms
by Mary Jo Tate is available in paperback from
Apologia Educational Ministries
for
$15.00
plus shipping and handling.
Social Media Links:
Facebook:
https://www.facebook.com/FlourishAtHome
Twitter:
https://twitter.com/maryjotate