A few weeks ago we received in the mail a new case for our iPad--the
Kracken A.M.S. Case for iPad 2/3/4
--from Trident Case for review. When I saw the
Trident Case
I was immediately intrigued. This is a very sturdy and strong case that won't be wearing out anytime soon, something I couldn't say about our current case. So what makes the
Kracken A.M.S. Case
so intriguing (besides the name)?
The
Kracken A.M.S. Case for iPad 2/3/4
are the sturdiest and strongest cases that
Trident Case
offers. Here are a variety of features that come on this case.
Hardened polycarbonate shell
Shock-absorbing silicone
Built-in screen protector
Protection for device controls and ports
Enhanced audio Meets or exceed military standards for vibration, drop, dust, sand, and rain
Optional accessories are available
A couple of other pluses are that this case is made in the USA.
Trident Cases
are also made out of bio-enhanced plastic which can be recycled, is degradable and compostable. Oh, and my favorite thing--the variety of colors! You can pick from black, blue, pink, red, Trident green, purple, orange, and maroon. These are not dull colors, but very vibrant colors.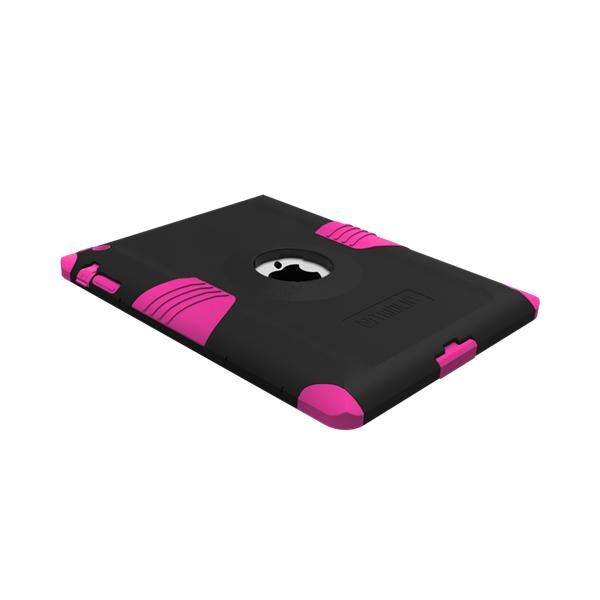 I had picked the maroon case, which met everyone's approval. I first wrapped in the shock-absorbing silicone, then placed the built in screen protector on the front, and finished it off with the hard polycarbonate case placed on the back. The silicone shows through on the corners and along the sides along the back. This is handy in helping you have a good grip on your iPad. Also, the silicone has a cover for every port and button to keep the dust out.
We have never put a screen protector on our iPad and I wasn't too sure how well the screen protector would work. Well, I didn't have anything to worry about. It worked great and responded to touch just like it was the original screen. My only complaint with the screen protector is that it did show fingerprints which at times made it hard to see things on the screen. I think this is due to be just a little bit raised off of the screen and it caused more glare than the original screen.
At first I found the buttons being covered by the silicone a little different, but it didn't take long to adjust. I don't think my kids had an issue with it at all! I also found that the sound wasn't hindered in the least and worked great.
The case does not come with a stand or holder, which was missed by all of us. A stand and holder is available as an accessory for and additional
$19.95
. For the price of the case, a stand included would make it a much better investment for families that are willing to spend a little more for a sturdy case that hold up to kids and regular wear and tear.
We have always traveled with out iPad and haven't had any mishaps with it. Being in the
Kracken A.M.S.
case I felt if it was dropped was better protected, but we didn't try it out to see. The biggest problem we had with traveling was that Siri kept getting pressed on and we would have turn her off. I also take the iPad to church all of the time and many times I felt funny carrying in my iPad in this case. It is very clunky to carry around and for a nice occasion I like my iPad better in a case that makes it look more like a book.
Overall, we have been very happy with the
Kracken A.M.S. for iPad 2/3/4
so much so that we are seriously looking at getting a
Trident Case
for my husband's iPhone. These cases are sturdy, tough, and user friendly for all ages!
The
Kracken A.M.S. for iPad 2/3/4
is available from
Trident Case
for
$69.95
.
Here are the social media links for
Trident Case
:
Facebook –
http://www.facebook.com/tridentcase
Instagram –
http://instagram.com/tridentcase#
Twitter –
http://www.twitter.com/tridentcase
Google+ -
https://plus.google.com/+tridentcase
Pinterest –
http://www.pinterest.com/tridentcase
Vine -
https://vine.co/Trident.Case
YouTube -
http://www.youtube.com/user/Trident Case