I love history and was excited to be able to review a new elementary American history program called
Digital Heroes & Heroines of the Past: American History Curriculum
by
Golden Prairie Press
.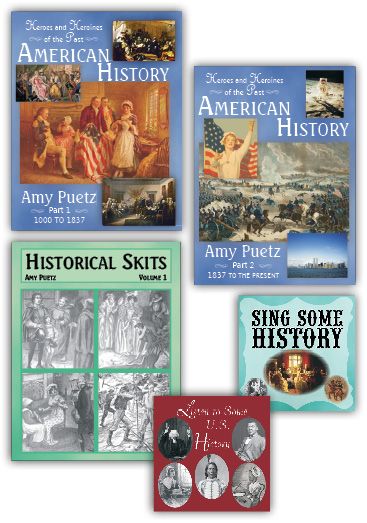 Heroes & Heroines of the Past: American History Curriculum
is for primary grades 1-6 and its focus is all about bringing history to life. Each section contains 5 lessons. Most of the lesson were overviews of the time period. These lessons are divided into two sections. The first is for 1st and 2nd grade and are simple overviews. The second section is for grades 3-6 and are filled with a lot more information. Some lessons also contain stories about heroes and heroines written by authors from the past to present. Included in each lesson was:
A memory verse - It is recommended that they write it out on an index card and study it for the week. On day 5 they recite it.
Questions from the text
Writing topic suggestions
Maps and geography questions
Activities (Crafts, cooking, timeline, etc.)
Recommended literature books available for purchase
Answer key and recommended resource lists for each historical division.
Beside the reader text, the heart of this program lies in the activities that are included. The author contends that to bring history to life recipes need to be cooked, games played, historical art looked at, doing crafts, listening to the songs and speeches of the past. Here is a sampling of the activities that are included:
Historical art Games of the Past
Recipes from the past
Songs from history
Listening to speeches, poems, and sermons from history
Craft projects
Experiments
Watching events
1. Text 2. List of audio resources
3. Timeline 4. George Washington Snake Game
I used
Heroes & Heroines of the Past: American History Curriculum
with Chantry (5th) and Destini (7th). We started in Book 2 in the time period of National Expansion since that is where we were in our current American history book.
I read a lesson a day and instead of using the chapter questions I would have them narrate. We usually did one or two activities a week. We have always focused on American songs in music study and so learning about where these songs came from were a big hit. We also listened to different speeches, watched a video about Alexander Graham Bell, filled in timelines, looked at maps, looked at art, and played games. The writing suggestions are a great fit for kids who like creative writing. If your child struggles with creative writing you could suggest a topic that would work for them.
We did not use the
recommended literature
. These selections are available through Golden Prairie Press and have been edited by Amy Puetz. Instructions on where to use these are included in the American history books. These are available in print format or e-book format. I did think the price for the the e-books quite steep. Honestly, we had plenty to discuss without the extra literature and at the end of each time period is a list of recommended resources filled with literature, biographies, and movie selections that would give you more than enough to enhance your child's learning.
I appreciate that
Heroes & Heroines of the Past: American History Curriculum
goes all the way through modern history yet has the feel of an old history book (yes, even though I read it off of my iPod). The overview stories are filled with many facts, which my kids found a little dry, but the stories that accompany many of the lessons were big hits and help make history come alive, even for my 7th grader. Another thing I liked was integration of listening to history with songs, speeches, and poetry.
Digital Heroes & Heroines of the Past: American History Curriculum
Package comes with:
Heroes & Heroines of the Past: American History Part 1 and 2
Additional Materials CD
Historical Skits
Sing Some History CD
Listen to Some History CD
This curriculum is available at
Golden Prairie Press
for
$98.99
The
literature pack
that includes the five additional literature books is available for
$59.99
.
Social media links for Golden Prairie Press:
Facebook:
https://www.facebook.com/GoldenPrairiePress