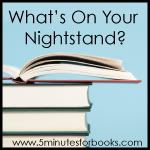 I had an especially
good
reading month. Though I did read quite a bit there were quite a few books (marked *) I had been reading over the course of a couple of months and just happened to finish reading them this month. For December I picked five book, though with Christmas approaching and lots of activities coming up I don't know if I will have time for all of them. We'll see!
December's Nightstand:
From
October's Nightstand
:
I also read:
I listened to:
What are you reading?
See what others have read over at
5 Minutes for Books
.