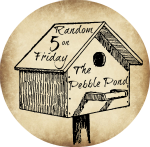 1. Time to paint. 2. Game time at co-op. 3. Fine dining!
4. Getting the apples done. 5. The last apple!!!
6. Chant working on spelling. (Review coming soon.)
1. We had beautiful weather for most of the week. It is probably the last we will see for quite some time. I'll miss it.

2. I am trying to keep everything balanced in my life right now. I don't think it is working, especially in the homeschool department. Yes, we are getting our work done, but some things are getting shoved aside and I need to sit down and re-focus our goals.

3. For some reason we were short of food for lunch this week. I'm not sure what happened, but I guess all the convenience food that I had stored up disappeared. I had to resort to eating leftover brown rice for lunch, so I added some Johnny's Seasoning and it turned out quite tasty.

4. We finally made it through all the apples we bought. We froze some for pies and apple bars and the rest was turned into applesauce, 41 quarts to be exact. When my husband suggested we buy apples for applesauce I rolled my eyes at him. When did he think I would have the time to do it? Needless to say it did get finished, but it wouldn't have happened without his help. Thanks, Shade!

5. Last week at co-op Delani was invited to a tea party for the following weeks co-op. She was soooo excited. I think she squealed once a day, "I'm going to a tea party!" Let me tell you, I didn't have any problems getting her up this week to go to co-op. She loved dressing up and doing tea. She did discover that she doesn't like tea. Yes, she is her mother's child.
Dictation using Spelling Wisdom. Lest you think dictation is easy just
give it a try yourself, I think you will be surprised.