English grammar has been a thorn in my side, especially with one of my kids. I wish I could teach it organically to them, but I can't remember much myself, so thus I have to depend on curriculum to help me out. Recently I received for review the book
Bridgeway English 1
from
Bridgeway Academy
, which my oldest son, Caleb, has been working through.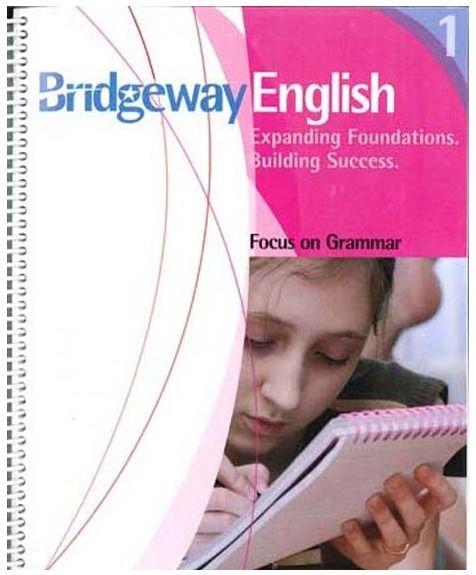 Bridgeway English 1
is a remedial English course recommended for 7th-12th grades to help kids with grammar and writing. The Student workbook is designed to be self-instructional and it follows a mastery cycle. Bridgeway English 1 covers:
Subject and Predicate

Four Types of Sentences

Sentence Fragments

Run-on Sentences

Compound Sentences

Noun Functions

Pronouns

Adjectives

Adverbs

Prepositions and Prepositional Phrases

Conjunctions

Interjections

Grammar Review
Bridgeway English 1
is spiral bound and includes everything you need for the student including the tests. Each section is divided into a what is termed a "PAK" and then each PAK is divided into sections. At the beginning of the PAK is a list of objectives for the complete PAK. At the end of each section is a review for that covering the topic that were covered in that section. At the end of the PAK is a Self-Test that reviews the whole PAK. When the student has finished the PAK they then study for the final test which is at the end of the book.
A nice feature to this program is the helpful tips given before the test. The student is encouraged to review their Self-Test and to also go through their incorrect answers and review that section of the lesson and then to jot down the page number next to the incorrect answer. Then when the student is prepared they can turn in their textbook to their teacher/parent and take the test the following day. The teacher/parent then scores the test and the student can continue on the next PAK.
Even though this course is can be independently done by the student the reviews and the self-test require a teacher's/parent's signature for them to start. There are also section where the student has to write their own sentences and bring them to the teacher/parent for them to scored. Also, there are intervals throughout the book that reminds the student to check their answers, correct their mistakes, and then to recheck their answers.


Another necessary component of the program is the
Bridgeway English Teacher's Answer Key
. This answer key includes the answers for Bridgeway English 1 and Bridgeway English 2 and for the tests.

I used this program with my oldest, Caleb, who worked through it on a daily basis, scoring the pages as needed using the
Teacher's Guide
. He for the most part worked on it without needing a lot of my help. though I'm not sure for him if that was a good thing. He is very right-brained and even though this is a very basic course, grammar and being right-brained don't go hand in hand! He found portions challenging but he never seemed frustrated and just kept diligently working through it.
I asked what he thought about it and he said it had helped. I then asked him how he would compare it to other programs we have used and he said that it made sense and he could understand it.
One big plus is that it is very straight-forward in its manner and it is appealing to an older student. Another thing I noticed is that it isn't overwhelming. There isn't any diagramming or there isn't a lot of labeling of all the different parts of speech in the sentences. For my son that was a good thing.
I really appreciated the requirement of the teacher/parent signature at the reviews and self-tests. From personal experience I know how easy it is for my student to walk off with a subject and I may not see it for awhile unless I go hunting for it! With this feature my son had to bring it to me which gave me a chance to look through and see how he was doing and if he needed help.
I found this to be a solid grammar program, especially for a student who just needs to review parts of speech or great for a student who hasn't done much in learning basic grammar and needs to cover the basics. It is solid, appealing, and not overwhelming at all. If you have a student who needs to go through a basic course of grammar, check out
Bridgeway English 1
.
Bridgeway English 1
-
$23.33
(focus on grammar)
Bridgeway English 2
- $23.33 (focus on writing)
Bridgeway English Key
-
$23.33