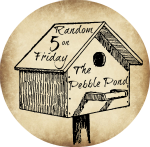 {Affiliate links enclosed.}
1. Time for Shakespeare! 2. Delani preparing her presentation
for co-op. 3. Free read time (Treasure Island).
4. Jambalaya Pasta 5. Oatmeal cookies 6. Current Events

Yes, I know it is Saturday and not Friday, but I ran out of time yesterday.

1. In my life this week...We are still on a road of recovery from last week's sickness. Actually I should say that the kids are doing great--me and my husband are working at it slowly. Fall (or should I say winter) has come with a vengeance. It has been cold and rainy all week. On Friday I finally succumbed and turned the heat on. If this keeps up my winter clothes will have to make an appearance this week!

2. In our homeschool this week…
We were able to start up our Shakespeare reading this week. We are reading
The Comedy of Errors (No Fear Shakespeare)
.
-I have attempted to Morning/Circle Time for the last couple of years. More times than not I fail, but I always come back to it and pick it up. This week we did it 4 of 5 days which made me very happy.
-Chantry and Destini are working on giving presentations this year for the co-op that they are in. The first presentation was an "About Me" topic. Chantry gave his a couple of weeks ago and this week it was Delani's turn. Since she can't read we printed off pictures to help her with giving her presentation. It worked out well and she did a great job. You can see a small clip
here
.
-We just finished reading about the War of 1812 in Chantry's and Destini's history readings from
Abraham Lincoln's World
. We also added in current events using
God's World News
that we are using for review.
I am enjoying that Chantry's reading ability has improved enough that he now can read a lot on his own and I'm not having to read everything. I still have quite a selection I read aloud just because I enjoy it. Yes, I'm a glutton for punishment!
-Caleb is working hard in Algebra II and Stewardship. This week in Steward ship was all about wholesale and retail and figuring out the percentage of the mark up for different situations. At times even my brain was spinning!
3. I'm cooking…
This a pretty good week. We had a family favorite--Jambalaya Pasta, Pork Roast, hot dogs-Costco sells the Kirkland brand in a smaller size than what they sell in their Food Court. They are very good and have quickly become a family favorite. I also made some Oatmeal Cookies from
The Homemaker's Mentor
(review coming soon).
4. Something I am ogling or have my eye on (and bought!)...
5. Helpful homeschooling tips or advice to share…A couple of 31 Days blog posts to check out.
Well, I'm not sure how educational this is, but it sure is fun!