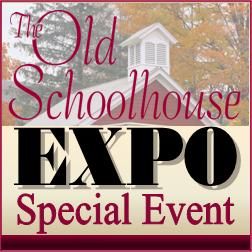 Coming August 19-23, 2013
I don't know if I've ever mentioned how much I love attending my local homeschool convention. I have found that it helps me so much in gaining a new perspective, be encouraged, and remind me why I am homeschooling. I also know that sometimes getting to a homeschool convention isn't always possible.
Today I have great news for you.
The Old Schoolhouse Expo
is coming August 19-23, 2013. This is a week long homeschool convention that you can attend in the comfort of your own home. On the plus side if you have to miss a couple of sessions that you will be sent download links at the end of the Expo.
Speakers include Andrew Pudewa, Todd Wilson, Diana Waring, and many more. You can receive all of this for
$24.00
--less than a tank of gas! Head on over, look over the
schedule
and get your
ticket
now and
Disclaimer: This is a promotional post, with admission to the Expo as my reimbursement.