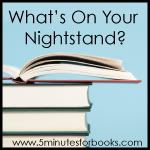 Another month has come and gone and I am dreadfully behind in posting book reviews. Another think to put on my ever growing to-do list. This coming month is going to be especially busy with a visit from my mom and dad, a small vacation, and homeschooling planning, and planning an Economics class for a homeschool co-op and yes, my knowledge of economics basically consists of 'what comes up must come down'--scary, I know! My picks for August may be a little generous for the time I have, but for now these are my goals.
August Nightstand:
From
June's Nightstand
:
I also read:
Arguing with Idiots: How to Stop Small Minds and Big Government by Glenn Beck - Yeah, I know this is NOT my typical reading. Honestly, I can't stand to listen to any kind of talk radio so thus I avoid Glenn Beck, but I really enjoyed this book. Very insightful on what is happening in our government today. I think what also makes this book appealing is how colorful the pages are and the illustration included which make it easier to read than just a normal book.
Parenting From the Heart by Marilyn Boyer - A mother sharing a heart about parenting. Filled with lots of illustrations from her years of parenting along with homeschooling the author offers a lot of encouragement to a homeschool mom.
Booklets from my Kindle:
Freebies from my Kindle. Short, sweet, and even though I can't say they were profound reads I can truly say that I think I found little tidbits in each one to help in our homeschool journey.
I listened to:
Appointment with Death: A Hercule Poirot Mystery
by Agatha Christie -
Sloooowly, making my way through Poirot's stories.
See what others have read over at
5 Minutes for Books
.