It is nice to come across a book that reinforces Christian principles that you are trying to train your children in and shows how it can they look in real life situations . We recently have been reading the book
25 Truths
from
Ed Douglas Publications
.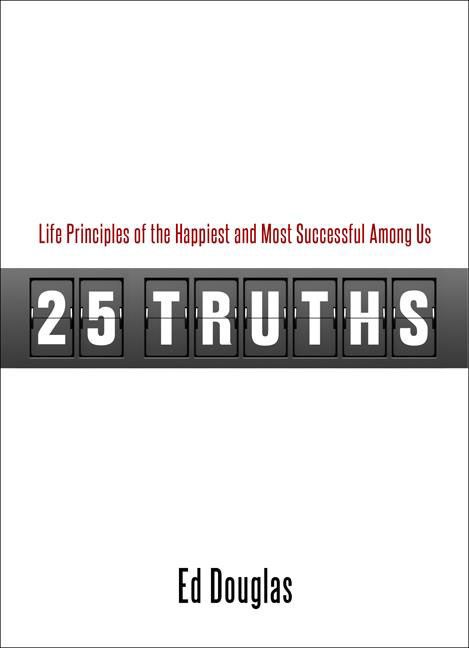 ... a three

-page list that Ed had compiled and titled "Life's Truths" or "25 Tips for an Enjoyable Life." He shared the list with friends, acquaintances, and students that he coached as the head high school tennis coach. (see more here)
25 Truths
deals with character, values, and what is important in life. Each truth is discussed by the author in concise and easy to read sections. The author also gives many examples of how these truths related to incidents in his own life and how they guided him in making better decisions.
A samples of truths include:
Protect Your Reputation
Be Slow to Judge
Make every Day Your Best Day
Practice - It Make Perfect
Set Goals and Write Them Down
Spend Time with Your Family
And so many more!
Following each chapter is a summary which summarizes the truth in one or two short, easy to understand sentences. Then there follows a summary portion which repeats the 'truth' and then gives a series of questions to be answered.
I read
25 Truths
as a read-aloud to Chantry (11), Destini (13), and Caleb (17). I enjoyed that so many of the truths he covered are things that we have been teaching and instilling into our children since they were young. The examples were a wonderful way to show how other people apply these principles in their own personal life. Plus, they got to see that maybe mom and dad aren't crazy after all!
We then would go through the summary portion and answer the questions. I have to admit that a lot of the questions were hard for them to respond to since they haven't experienced for themselves yet, but we didn't let that stop us from talking about them. The questions still gave opportunity for great and sometimes hilarious discussions. Also, it made me have to share things in my life that I was doing or not doing. Yes, I had moments of conviction.
I did have two small issues with the book. The first was that the term "Christian principles" was used when so many of them were "Biblical principles" which could have been backed up from the Bible. Yes, he does use some scripture in book, but there could have been a lot more used. If I go through this again I will probably do some quick Bible digging and find scriptures to look up to add.
My second issue arose when we got to the "You Gotta Believe" truth. He started off the chapter saying that you needed to believe in a higher power and then told his story about how he believed in God and what God had done for him. I appreciate his honesty, but I eventually gave up reading that chapter since I believe there is no other Higher Power except for God and I do not want there to be any confusion on that point with my children and we did discuss that. Since the author talks about being a Christian through out the book I was surprised he straddled the fence on this one truth.
I think
25 Truths
is a very helpful book and it made a great family read-aloud. The chapters are short and don't take very long to read, yet they are packed with full of great things. We had such a wonderful time talking about these truths and I think my kids came out with greater insight on their mom (and dad, when he was awake).
25 Truths
by Ed Douglas is available from
Ed Douglas Publications
for
$12.50
plus
$3.00
for shipping and handling.
Now I'm off to set come goals and write them down!!!