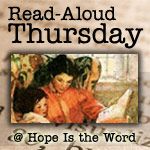 Book Description:
A story filled with danger and excitement, Johnny Tremain tells of the turbulent, passionate times in Boston just before the Revolutionary War. Johnny, a young apprentice silversmith, is caught up in a dramatic involvement with James Otis, John Hancock,and John and Samuel Adams in the exciting currents and undercurrents that were to lead to the Boston Tea Party and the Battle of Lexington -- and finally, a touching resolution of Johnny's personal life.
My thoughts:
Johnny Tremain
by Esther Forbes was on the
AO Year 4
free read and fit in very nicely with what we had been studying in history. It made many of the people and events we had read about in our history spine come alive. People such as Paul Revere, John Hancock, Sam Adams, and events such as the Boston Tea Party, Paul Revere's ride, and the first battle between the minutemen and the British.
Weaved through out this historical events is the story of Johnny Tremain an apprentice silversmith. When Johnny is first introduced he is very cocky and very sure of himself. When an accident happens that makes it impossible for Johnny to continue being a silversmith, Johnny finds himself having to find a new way to survive in the world. He makes friends with Rab, a printer's apprentice, and is introduced to the Sons of Liberty and becomes a part of the American Revolution. Also interwoven throughout the story is Johnny discovering his family and learning how to rise above unfortunate circumstances that we face in life.
My kids really got into the story of
Johnny Tremain
and begged me to read it to them during the day at during our evening read-aloud times. This was a story filled with suspense and adventure. They did find the ending a let down since they wanted to find out what happened to Johnny after Battle of Lexington, but overall it will go down as a great read in the Starr house.
On a side note: I was glad I read this aloud since there were quite a few 'cuss' words that aren't allowed to be said in our house. Yes, they were mainly used when the older men and the Generals were talking, but I was surprised to see them in a book written in 1943.
See what others are reading aloud over at
Hope is the Word
.