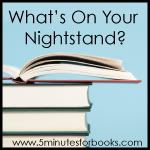 I had a great month for reading, but unfortunately I didn't have much time for reviews. I had Thanksgiving and my kids' first term of home school all converge at the same time, which didn't leave time for much else. I am giving a small condensed version, but a few I will be posting a more thorough review soon.
I am not making a heavy commitment for December since I want spend some time sewing a few Christmas gifts and I am also excited to have my parents flying out to spend a little time with us for Christmas. I'm sure I'll get more read, but one never knows.

My Nightstand for December:
From my October Nightstand I read:
I also read:
I listened to:
The Mystery of the Blue Train: A Hercule Poirot Mystery (Hercule Poirot Mysteries) by Agatha Christie - Oh, my!! This has been my favorite Agatha Christie story so far. I could not figure out the murderer until Poirot revealed it. I really enjoyed this story!
Our Hearts Were Young and Gay by Cornelia Otis Skinner & Emily Kimbrough - This is another book I've read really good reviews about so I gave it a go. I don't know if I would go straight to a great read there are a few extremely funny moments and in the end I think it gives a great portrayal of young girls' dreams and desires.
The Wednesday Wars by Gary D. Schmidt - This is my second time to read this book. I absolutely love this story. Since it is set in the '60's there is quite an emphasis on the hippie movement, Bobby Kennedy, and the anti-war sentiment that reigned. It seem to show a very realistic picture of how America was in that time (and no, I wasn't alive then, but I have heard my parents talk a lot about it). I found this a thought provoking book and having Shakespeare's plays interspersed throughout made it even more interesting.
See what others have read over at
5 Minutes for Books
.