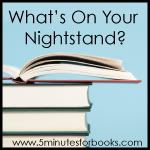 For November:
From my September post I read:
A Fire Within (These Highland Hills, Book 3)
by Kathleen Morgan (
review
)
Okay for Now
by Gary D. Schmidt (
review
)
7 Tools for Cultivating Your Child's Potential
by Zan Tyler (review coming)
God's Priorities for Today's Woman: Discovering His Plan for You
by Lisa Hughes (review coming)
Currently reading:
Uncle Tom's Cabin
by Harriet Beecher Stowe -
I am hoping to have this finished by Friday for Carrie's Reading to Know Bookclub. We shall see!
I also read:
Her Royal Spyness (A Royal Spyness Mystery)
by Rhys Bowen
Lark Rise to Candleford
by Flora Thompson (
review
)
Spark Notes No Fear Shakespeare Othello
by William Shakespeare
Winning the Widow's Heart (Love Inspired Historical)
by Sherri Shackelford (
review
)
Confessions of a Prayer Slacker
by Diane Moody (review coming)
The Personal Organizing Workbook: Solutions for a Simpler, Easier Life
by Meryl Starr
I listened to:
At Home in Mitford (The Mitford Years, Book 1)
by Jan Karon (
review
)
Elegy for Eddie: A Maisie Dobbs Novel
- Jacqueline Winspear (
review
)
See what others have read over at
5 Minutes for Books
.