To Love and Be Wise
by Josephine Tey
My thoughts:
This is book 3 in the Inspector Grant Series and he while attending a social party he meets the very handsome Leslie Searle. Later he is called in to investigate the disappearance of Mr. Searle. All the clues point to a drowning, but a body cannot be found. Inspector Grant struggles to tie up the case, but in time he discovers what really happened.
This was an interesting story with a different twist. I enjoyed this book more than the first two. I'm not sure if this is due to adjusting to Josephine's Tey writing style or just a better written story.

Mrs. Pollifax and the Lion Killer
by Dorothy Gilman
My thoughts:
Mrs. Pollifax is heading back to Ubangiba with Kadi Hopkirk to protect her. Upon arriving they find that there is a lot of unrest and horrible killings are taking place. Mrs. Pollifax has to stay on her toes to keep Kadi safe not knowing that she is in danger, also!
Typical Mrs. Pollifax--even though she gets herself in a mess a trouble she is rescued in the nick of time with the help of friends and her karate skills.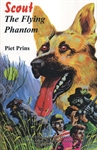 The Flying Phantom
by Piet Piers
My thoughts:
The latest read aloud in our house. Check out my review
here
.

I am linking up over at: