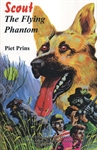 Book Description:
When Tom and his friends Bert and Carl set out on an adventure over spring vacation, they are only looking for a good time. But soon a series of baffling events draws them inexorably into another mystery.

What connection is there between a dangerous poacher, a police cap on top of a tower, a host of unsolved burglaries, and a mysterious fire? Is the fearsome character who walks on the swamp the ghost of the legendary Flying Phantom? Or is it something or someone else?

Join the boys, Tom's dog, Scout and their mutual friend Captain Brandenburg as the muster courage, tenacity, and wit to track a very unusual kind of criminal.
My thoughts:
Scout: The Flying Phantom
by Piet Prins is the second book we have read in the Scout series, though I realized later that this is the third book in the series. That didn't seem to matter since the story seem to stand very well by itself.
This story happens after the war and the three boys take a couple of days to go to a nearby island and build a fort. While building and playing they notice a fire at a nearby neighbor's house. This begins an exciting adventure for Scout and the boys and they along with Captain Brandenburg, a friend from the war, try to piece together the all the unusual events that are happening, including a ghost who c an walk through the swamp.
Again, Scout was a big hit in our house with my kids hanging on to every word and begging for more. These stories are exciting and especially appealing to boys, though anyone who likes a good adventure story will enjoy them. We are definitely looking forward to reading more in this series, though it will require a visit to the
homeschool store
to get the next one.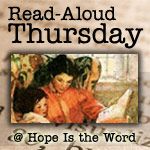 See what others are reading aloud over at
Hope is the Word
.