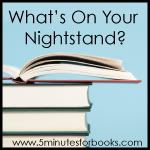 My reading for May:
From my March post I read:
Piccadilly Jim
by P.G. Wodehouse
Sam the Sudden
- P.G. Wodehouse
Scout: Secret of the Swamp
by Pier Prins
Playful Learning: Develop Your Child's Sense of Joy and Wonder
by Mariah Bruehl (
review
)
Your Child's Growing Mind: A Guide to Learning and Brain Development from Birth to Adolescence
by Jane Healy (
review
)
I also read:
The Maid of Fairbourne Hall
by Julie Klassen (
review
)
Man in the Queue
by Josephine Tey (
review
)
A Shilling for Candles
by Josephine Tey
Too Many Crooks Spoil the Broth (A Pennsylvania-Dutch Mystery with Recipes)
by Tamar Myers (
review
)
Simply Homeschool: Having Less Clutter and More Joy in Your Homeschool
by Karen DeBeus (Kindle booklet)
Tell Your Time: How to Manage Your Schedule So You Can Live Free
by Amy Lynn Andrews (Kindle booklet)
I listened to:
The Three Musketeers
by Alexandre Dumas (
review
)
Mrs. Pollifax Pursued
by Dorothy Gilman (
review
)
The Girl on the Boat
by P.G. Wodehouse
I gave up reading:
Give Them Grace: Dazzling Your Kids with the Love of Jesus
by Elyse Fitzpatrick (I know this book has rave reviews, but I found the woman's style of "giving grace" extremely annoying. I was almost half-way through the book and after discussing some of her thoughts with my husband, I decided to just forgo the book.)
The Power of a Positive Mom
by Karol Ladd (I found that this book was just ho-hum and I was kind of bored with it. I decided to quit reading it since other books are calling my name.)
See what others are reading over at
5 Minutes for Books
.