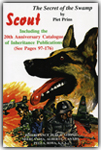 My thoughts:
I had brought home
Secret of the Swamp
by Piet Prins a couple of years ago for my oldest son to read which didn't happen . After reading
this
post over at the CIRCE Institute blog, I decided to read it aloud to my everyone.
In
Secret of the Swamp
we are introduced to Tom, his two friends, Bert and Carl and his German Shepherd, Scout. They live in Holland during the German occupation of World War II. The boys experience many adventures in the swamp around where they live. Scout has been an invaluable companion to Tom and on several occasions saved his life. As the Allies draw closer the Nazis become more cruel and sinister. When Tom overhears a plot to ambush the Allies, he and Carl, along with Scout, set out on a dangerous journey through the swamp to warn the Allies.
This story was a very exciting and suspenseful story and who what child can't resist a great story about a dog. It also gives a great picture of war times and shows that in times of distress how important it is to trust in the Lord.
Secret of the Swamp
was fun to read aloud to my kids. It had my boys (16 & 9) begging for more. In fact, after the second day my oldest son took the book in his room and completed it in two days. It took my daughter (12) longer to get into the story, but by the end she was begging for more. Scout seems to be a new favorite and I highly recommend it as a family read aloud.
I am linking up over at: