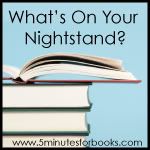 October seemed to go by at a leisurely pace, until I realized way too late last night that it was time for a What's On Your Nightstand post. I guess I was in la-la land. November doesn't seem too busy, but I'm divided on what to read so I am keeping my nightstand open for possibilities.
For November:
From September's Nightstand I read:
I also read:
I listened to:
Frederica by Georgette Heyer - This is my favorite Georgette Heyer book! Back in 2013 I noted that that this book was "

filled with rambunctious children, a ravishing beauty, a sensible sister, and a bachelor--fun, fun, fun!!"

and I think that still stands.
See what others have read over at
5 Minutes for Books
.