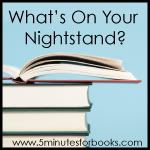 For March:
From my
January Nightstand
I read:
I also read:
Mrs. Tim Gets a Job by D.E. Stevenson - Continuing on with the series of Mrs. Tim of the Regiment this tells of Mrs. Tim getting a job while her husband is stationed out of the country. A fun read.
Mrs. Tim Flies Home by D.E. Stevenson - The last book in the Mrs. Tim series. I have to admit that I did enjoy these series, but I find her friendship with Tony Morley, who plays a part in all four books, quite odd. In fact, in this book it does cause some talk. I liked him in the other books okay, but I found his character in this last book kind of annoying by the end.
Glimpses of Grace: Treasuring the Gospel in Your Home by Gloria Furman - This book has a great title and a great thought. It even has excellent reviews at Amazon. Unfortunately, I just couldn't get into this book. I concluded that we spoke two different language. I finished it and about did a jig when I did.
I listened to:
The House of the Deer by D.E. Stevenson - This is a sequel to Gerald and Elizabeth which I listened to last month and decided it wasn't my favorite Stevenson book. While browsing Audible I noticed that this was sequel to the book and bought it immediately because some of my disappointment in the book was over the ending. Gerald and Elizabeth needed an sequel, which I was glad to listen to. Again, it won't be my favorite reads by Stevenson, but it was a satisfying conclusion the the two book set.
See what others have read over at
5 Minutes for Books
.