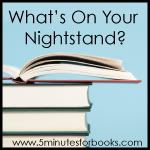 I didn't do a Nightstand post last month so I am combining November and December's. I was in a real reading slump for almost a month though I still read (if that makes any sense).
For January I am just staying with a small selection since I am still working on my reading list for 2016 and my parents will be coming for a visit in the beginning of January and I want to focus on spending quality time with them. So here goes my list.
For January:
From
October's Nightstand
I read:
5 Minutes for Books
.