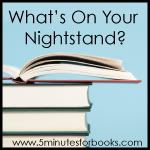 October has flown by. It didn't feel like I read in very much, but I did make through 1037 pages of Gone with the Wind. I am counting that for more than one book. My November nightstand is smaller since my mom is coming for a two week visit in November. I making my goals manageable.
For November:
From
September
I read:
I listened to:
A Long Way from Chicago: A Novel in Stories by Richard Peck - I love this series by Richard Peck. One of my kids listened to them so I decided that I would also listen to them before they had to go back to the library. They were just as good as I remembered.
A Year Down Yonder by Richard Peck - Ditto and this one even made me cry and it had the perfect ending!
See what others have read over at
5 Minutes for Books
.