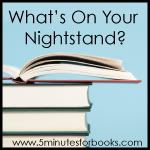 We started off the month of April going ninety to nothing which wasn't very conducive for reading. Thankfully life finally started to slow down and I'm pretty excited at how much I ended up reading.
I only picked one non-fiction for May since I want to take Consider This by Karen Glass slowly. Of course, if I finish early I have more non-fiction books on my shelf just waiting to be read. Baseball season is in full season and I wish I could say it afforded me more reading time, but alas, I feel the need to socialize! Here is what I have been reading lately:
For May:
From March's
Nightstand
:
I also read:
I listened to:
Elephants Can Remember by Agatha Christie - My last Poirot book, since I am refusing to read the last book. Christie always manages to amaze me with her variety of mysteries she can come up with. I do think you can tell that she was weary of Poirot in the last few books. I even figured out the murdered in this one (though I didn't figure out motive).
The Corinthian by Georgette Heyer - Thoroughly fun and enjoyable read!
See what others have read over at
5 Minutes for Books
.