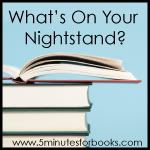 I had a very successful reading month for February. I would love to follow this routine every month, but alas, my life has way too many of moments of busyness!
For March:
From
January's Nightstand
I read:
I also read:
Deepest Roots of the Heart (Legacy of the Vines) by Chautona Havig - This was an okay book. I prefer Christian fiction mainly because I want a clean read. Books dealing with theological problems annoy me, especially when the author forget by the end of the book that they had a theological problem. Not that I cared what happened, but there might be someone who does!
Miss Pym Disposes by Josephine Tey - A very different read compared to Tey's Inspector Grant series. There was a lot about this story that I liked, but I struggle with stories where the main character ends up being judge and jury.
Let Us Pray by Watchman Nee - The first book off of my 2015 Reading Goals list. I have owned this book for years and I believe it was the author was highly recommended to me. Not a favorite read, but there were a few points here and there worth reading.
I listened to:
So Brave, Young and Handsome by Leif Enger - I was in need in an audio book and this one available and since I have read many good reviews about it I downloaded it. A very enjoyable read.
Jayber Crow by Wendall Berry - I am going to go out on a branch and just state right now that Wendall Berry is not a favorite author of mine. Yes, he does write beautiful descriptions. Yes, he does have a way with words. Yes, his stories are compelling--to a point and then they get depressingly sad. This is my second Berry book and I don't think I can handle any more. In other words--he is not my cup of tea. If you find my words offensive I am very sorry.
See what others have read over at
5 Minutes for Books
.