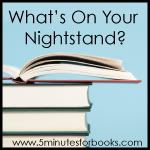 I'll have to admit that I'm a little put out right now. Hello? January just arrived!! I thought I just wrote out my December Nightstand. Well, obviously not. Oh well, that is life. I did get some reading finished this month, though there were a few books had planned on getting read before today. Here goes:
For February (My choices are a little slim since I can't decide what I want to read. Unbelievable I know, since my TBR list is overflowing with titles!):
From my January Nightstand:
I am currently reading:
I also read:
I listened to:
See what others have read over at
5 Minutes for Books
.