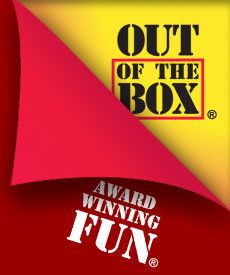 Games are always a great family activity. Lately we have been playing a new game,
Snake Oil: It Cures what Ails Ya!
, produced by
Out of the Box Games
which I received for review.
Snake Oil
is a game ages 10 and up and for 3-10 players. There are different variations included for a large group of people which include a Tournament and TV contestant game. In this game every player gets numerous opportunity to be a snake-oil salesman, which means you are allowed to create a very creative and interesting (and most likely possibly made up) sales pitch.The rules are pretty basic:
1. One person is picked to be the first "Customer" and they pick a customer card.
2. All the other players look through their cards in their hands (six cards) and then pick two cards to create something for their sales pitch.
3. Then the craziness starts--each player persuades the "Customer" that their item is best. This can go on for a while (though the "Customer" can stop the sales pitch after 30 seconds) and can get quite noisy as each person pitches their sale.
4. The "Customer" then picks the sales pitch the like best and that player gets the customer card. The first player to collect three customer cards wins the game.
I played this with my kids 18, 15, & 12. This game had an easy learning curve and went fast. It seemed like we had only been playing a few minutes when the one player already had three customer cards. That was easily fixed by just continuing to play or making the winner have five customer cards. This is a family friendly game, though there were a few cards we chose to exclude,
During one round Chantry was a "Teenager" for the customer. His sales pitch included--banana juice, a sleep closet, pajamas cloak, and a booger poster. Chantry picked the least pushy salesman (Caleb) who was selling pajamas cloak.
A couple of my kids were pretty good with coming up with their sales pitch, while it was harder for others. There were a few times it was just plain hard to come up with a sales pitch at all. This could have been due to us requiring the winner to have more than three customer cards. There were a few times we needed to start over and all get new cards at a certain point.
Snake Oil
provided us with plenty of laughter, but in the end my kids mentioned they preferred other games to this one. I can only put it down to having weird kids. I would really like to see this played in a bigger group setting with a bigger mix of people.
Snake Oil
has won numerous awards including Mensa Select. This game is a great family game which provides plenty of laughter. This game will really appeal to those who like a good argument, are great with words, or love being the life of the party!
Snake Oil: It Cures what Ails Ya!
is available at
Out of the Box Games
for
$19.99
. Also, make sure to check out the other Review Crew review of
Snake Oil - Party Potion
for ages 8 and up.
Facebook
Twitter
YouTube