I always enjoy reading about the Creation of our world, especially when it is written in a format that is has a nice presentation and easy to understand. We recently have had the opportunity to review
Purposeful Design: Understanding the Creation
from
Jay Schabacker
.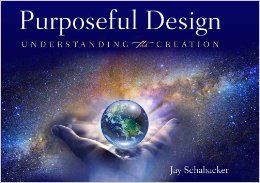 In Purposeful Design: Understanding the Creation
is a beautiful, hardcover coffee-table book that is appropriate for all ages and looks at the principles of science that rule our world and explains the elements of design that make life possible. It also presents evidence that shows the purpose of God in these designs.
It includes:
Introduction - The Man on the Moon
The First Day: Creation of the Heavens and the Earth--the Foundation of It All

What Keeps it Things Going?

The Second Day: Creation of the Atmosphere and Water

Quenching the Thirsty Earth--The "Rain Cycle"

The Third Day: Creation of the Dry Land and Vegetation

The Importance of Vegetation and Plants to Humans

The Fourth Day: Creation of the Sun, Moon, and Stars

The Suns Ray and the Earth's Tilt
Use of the Preciseness of the Sunrise

The Many Benefits of our Moon

The Beneficial Ocean Tides
Stars
The Fifth Day: Creation of Land creatures and Humans
God Made Domestic Animals for Us
The Amazing Uniqueness of the Human Beings

The Seventh Day
Epilogue--Who Made the Cookies?
There are several themes that run throughout this book. One is that the creation of the world didn't just occur--there is a Purposeful Designer. The second is how creation was designed for our benefit, which include the seasons, animals, food, and so much more. The third is the perfection that God used when he created our world. Think about it--if our world was tilted at anything other than 23.5 degrees life as we know would be vastly different if not existent!
I read this over a couple of weeks to my children (6, 12 & 14) for our devotion time. We read it in short chunks and spent time looking at the pictures and discussing what we had read. Thought his is recommended for all ages, this did not keep my six year old's attention and most of it went over her head. I had some interesting discussions with my older kids and overall felt that Purposeful Design left us marveling over the greatness of our God.
Also a
free curriculum
is available for download. This covers all seven chapters that will enhance your child's readings and help their comprehension. The questions start easy for younger children and then section of testing and comprehension questions. There are suggestions for memory verses and additional scriptures for reflection. Though this could be used with younger elementary children, it was better suited for older children who have strong reading and writing abilities. Also, available is the Teacher's Answer Key which includes the answers, a certificate of completion, along with some additional points for discussion.
Purposeful Design
is truly a beautiful book that can be used in a more relaxed learning environment or it can also be easily enhanced with the free curriculum and used as a short Creation Science course.
Purposeful Design: Understanding the Creation
by
Jay Schabaker
is available for
$18.95
Social Media:
Blog:
www.Jayschabacker.blogspot.com
Facebook:
https://www.facebook.com/JaySchabackerAuthor
Twitter:
www.Twitter.com/Jayschabacker
(@Jayschabacker)
LinkedIn: Jayschab