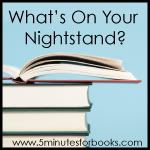 While writing this post I was surprised at how much I read. I know I had at least a week that I didn't get anything read and seeing the final results I am in shock. A few books I had been reading on for a while and just happened to get them finished this month, so please understand I didn't start everyone of these books in October and finish them before today. I took a trip earlier this month which gave me quite a bit of time to get some audio books in also. I am not too sure what November will bring, but I want to make a good attempt at my Nightstand pile. I am pretty sure I won't get through Gone With the Wind, but I want to start it.
For November:
From
September's Nightstand
I read:
I also read:
I listened to:
Beauvallet by Georgette Heyer - This story is a very different Heyer novel. It included pirates, the Spanish Inquisition, sword fighting, and a lot of suspenseful and fun moments.
Cotillion by Georgette Heyer - Another Heyer book that doesn't follow her typical format. This was a re-read though I didn't realize it when the story began, but the more I listened the more I realized that I knew what was going to happen. Fun read!
See what others have read over at
5 Minutes for Books
.