As much as I love to read and encourage it in our home, I find that the rest of my family love to watch videos. A documentary is always a great way to slide a little learning in, plus a couple of my kids are visual learners. Recently I had the opportunity to review
Warriors of Honor
a Christian DVD which shares the faith and legacies of Robert E. Lee and Stonewall Jackson from
New Liberty Videos
.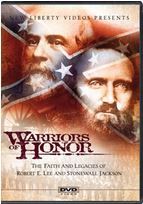 Warriors of Honor
, which is a documentary for all ages, focus on Robert E. Lee and Stonewall Jackson and tells their story from the beginning of the Civil War to the end of their lives. The viewer is introduced to both men and learns about their beginning military careers, their strong faith in God, and their decision to fight for the Confederacy and then on through the war covering:
Manassas
The Valley Campaign
Seven Days Battle
Second Manassas
Antietam
Frederickburg
Chancellorsville
Stonewall is shot
Crossing Over (Stonewall's death)
Gettysburg
Cold Harbor
Sherman
The Final Year
Appomattox
The final years of Robert E. Lee
Warriors of Honor
is filled with a lot of information about both men's lives, especially during the war. Many of the quotes throughout the film show the strong faith that both Lee and Jackson had in God and how they relied on him. Jackson was know for praying all the time and loved attending church and vocally gave glory to God. Lee's faith was showed in his character that he portrayed all the time.
The quality of the film is excellent. Shots of Civil War battlefields are throughout along with reenactments. Different voices are used for different characters. The music is pleasant and not distracting at all.
I watched
Warriors of Honor
with my husband and my oldest son. My 12 year watched up until Stonewall Jackson died. About two minutes into the film I realized that this was going to be very biased toward the South. I didn't say anything to my son or husband and a few days later re-watched it to see if I was reading more into, but determined I wasn't. I did ask both my son and husband separately and though they both enjoyed it they both noticed the bias as well.
If you are a Civil War buff or like learning more about Stonewall Jackson and Robert E. Lee
Warriors of Honor
may be a good choice for you just beware that there is slant to it. Researching quotes and how ideas are presented from this film would make a good research project for a high school student to do and find out for themselves where the truth lies. It would help a student see that things can be biased on either side.
Warriors of Honor
is available from
New Liberty Videos
for $19.95 along with many other Christian DVDs of different topics.