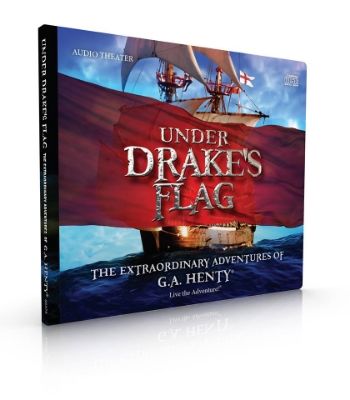 My kids love dramatized audio books and recently we were able to to listen for review
Under Drake's Flag
from
Heirloom Audio Productions
.
In
Under Drake's Flag
we meet G.A. Henty who beings to tell a story to some boys about two young men, Ned and his friend, Gerald, who end up working on Sir Frances Drake's ship, the Pacha. During this time they experience many adventures including facing the Spanish Inquisition. Ned and Gerald go from boyhood to manhood and throughout this time their faith is tested and they have to learn to face their fears as they grow in God.
Under Drake's Flag
is for ages 6 to adult and comes with two CDs (2 hours) in a case along with an abridged study guide. Even though we didn't use this, I found the study guide to be very thorough and thought provoking. This study guide is 12 pages in length and includes an intro to the CDs along with tips on using the Study Guide and some information about G.A. Henty and Sir Francis Drake. The sets of questions focus on Listening Well, Thinking Further, and Defining Words. At the end of the study guide is three short Bible studies that focus on Godly character, true manhood, and confessing.
Also available is a full complete study guide that you can have emailed to you. This study guide follows the same format as the abridged study guide, but there are a lot more questions under the Listening Well and Thinking Further sections along with a more Defining Words. The Bible Studies were very similar in both study guides. I would say the heart of the full complete study guide lies in the Listening Well, Thinking Further, and Defining Word sections. The Listening Well section asks simple questions about what was heard in the story where the Thinking Further questions brings questions that deal with character and Biblical applications.
My oldest son is the only one in the family who has read any books by G.A. Henty, so the rest of us didn't know the storyline at all. We sat down as a family as spent several evenings listening to the CDs. (Had time permitted it would have been listened to all at once.) We were only a few minutes into it and by then my older kid's were totally engrossed. (My 6 year old daughter didn't really get into it, but listening to audios isn't really her thing right now.)
The script is well written and included the right amount of humor (a big plus in our house) along with a lot of suspense and drama. The dramatization of
Under Drake's Flag
was excellent and kept our interest the whole way through. In fact, it was so interesting that I had one kid go pull the book off the shelf so they could read the whole story for themselves. I also found myself intrigued with G.A. Henty and am planning on adding some of his stories to by TBR list.
At the end of the story the prayer of Sir Francis Drake, 1577, is read. I was very moved by this prayer and if I didn't get anything from the CD this prayer will stay with me for a long time. This prayer is also included on the CD case which will make it easy for me to copy down and put in a predominate place for reminder.
If your kids like dramatized stories or adventure stories you don't want to miss this great production of
Under Drakes Flag
which is available from
Heirloom Audio Productions
for
$29.95
plus $6.95 shipping and handling and includes several bonus items.
Under Drake's Flag on Social Media:
Facebook –
http://www.facebook.com/UnderDrakesFlag