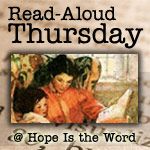 Book Description:
Huckleberry Finn had a tough life with his drunken father, until an adventure with Tom Sawyer changed everything. But when Huck's dad returns and kidnaps him, he must escape down the Mississippi River with a runaway slave named Jim. They encounter trouble at every turn, from floods and gunfights to armed bandits and the long arm of the law. Through it all the friends stick together...but can Huck and Tom free Jim from slavery once and for all?
My thoughts:
Caleb and Destini did a literature class in their co-op and the book that was picked to read through was
The Adventures of Huckleberry Finn
by Mark Twain. I decided to do it as a read-aloud and included Chantry with us.
All three kids had recently read or listened to
The Adventures of Tom Sawyer
, which I highly recommend reading before hand. We then ventured into Huck Finn and made it about half way through the book then had a long hiatus due to our move. When I realized that they only had one more literature class to go we sat down and finished off the rest of the book in a weeks time.
My kids' final thoughts on the story was that it was exciting when Tom Sawyer was involved in the story, but when it was just Huck and Jim the story was slow going. Huck Finn doesn't even come close to a great imagination compared to Tom Sawyer. In their literature class they discussed Huck's dilemma in whether he should turn in Jim or not, and that conversation came home and we spent more time talking about it. We all felt that Mark Twain could have cut out a couple of chapters where the character of duke and the king were involved.
This wasn't the easiest book to read aloud. The vernacular is a killer. I kind of just tried to phonetically read it hoping that I would eventually understand what I was saying. My kids seemed to understand most of it so I must of done okay.
The other issue was the "n" word. No, I didn't read it aloud and I did substitute another word. I am going to be controversial here at this point, but many times I felt that the message that Twain was trying to get across was lost with the substitute word. There is something about reading it as Mark Twain wrote it that just makes the hackles rise and really shows the way that people thought about and how they treated African-Americans was wrong and definitely not Christ-like.
In the end I think this is a book that they will need to revisit when they are older and and can read it for themselves. Overall, it was a fun read and even though there are some deep issues raised in the book which lend themselves to much discussion, my kids will probably remember Tom and Huck's pranks most of all.