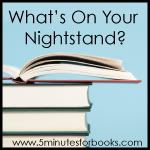 Folks, I read two--yes, two whole books in the last month! I also squeezed in two little Kindle booklets, but their page length didn't even amount to 100 pages. Instead I've been busy moving and helping prep my kids for a competition that they will participating in next week.
For April, I am keeping my reading goals on the light side since I need to start focusing on unpacking boxes and find a home for everything.
For May:
From
March's Nightstand
:
Boundaries with Kids: How Healthy Choices Grow Healthy Children by Henry Cloud & John Townsend - An excellent read. I enjoyed this one better than Boundaries.
Uncle Dynamite by P.G. Wodehouse - I liked this book, though I can't say it will be a favorite. It felt like it took me forever to read this since I would fall into bed exhausted from cleaning and moving, read two pages, and fall asleep. At least I went to sleep with happy thoughts.
I also read:
See what others have read over at
5 Minutes for Books
.