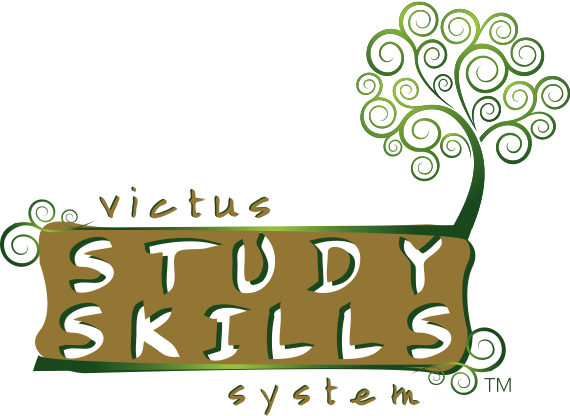 Learning study skills can be a real challenge. I faced it myself when I was in school and at times I have faced it in our own homeschool. I recently had an opportunity to review
Teacher's Edition
and
Student Workbook
for the
Victus Study Skills System
.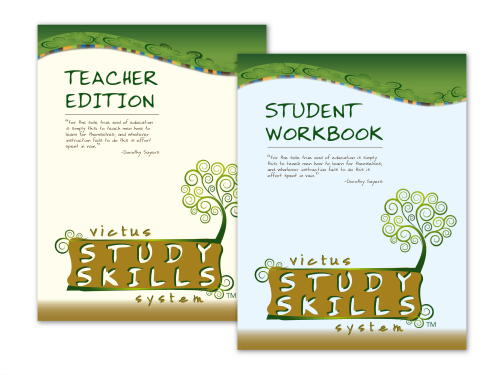 Victus Study Skills System
aim is "to equip the student for success in academics and in life." It gives parents and students the know how so they can learn and perform the important task of learning to study.
Victus Study Skills
applies three foundational cornerstones with questions that a student can learn to apply to their schooling and life. These foundational cornerstones ask the student:
"Where are you now?'
"Where do you want to be?"
"How do you get there?"
I received the
Teacher's Edition
and
Student Workbook
for review. The Teacher's Edition lays out the aims, foundational cornerstones, and objectives in the first few pages of the book. It then shares how to use the Teacher's Edition, offers effective techniques to use while teaching the material, and gives a lays out a sample course plan.
The
Student Workbook
is to be used while the teacher is teaching the material. It is not a stand along book. It included checklists, fill-in-the-blank sheets, charts to fill out to practice new skills, and more. These worksheets and forms take the student through the three Foundational Cornerstones.
For maximum effectiveness they recommend using the program in 5, one-hour sessions and completing all 10 lessons in that period of time. Of course, they advise to use the program to your student's ability and the available time that you have.
Lesson covered include such topics as:
Study Habits
Learning Strengths
Time Management
Organization
PQRST (Preview, Question, Read, State, Test)
Study Environment
Note Taking
Rest Taking
Review and more
I was undecided which one of my kids to use this with. Since Caleb is a senior I decided to use it with him and I had Destine sit in on the lessons. We averaged one lesson per day and it took us almost two weeks to complete.
Caleb enjoyed working through this. Since he is very detailed oriented this program really "spoke" to him. He hasn't had much opportunity to apply what he has learned since we just moved and are still in the midst of getting settled. Destini listened in, but whereas Caleb loved all the detail, she found it bothersome. Both would admit that their favorite section was when they learned what their "learning strength" was and the things they could do to help them learn according to their learning style.
I understand the idea behind the
Victus Study Skills System
, but really struggled to apply this to our homeschool. Much of the information given is for a traditional school setting. We don't run our homeschool like a traditional school and thus my kids found it hard to apply to how we do academics.
I found the
Teacher's Edition
hard to use. It is written toward the classroom teacher and many lessons required preparation, which as a homeschool mom isn't the easiest the find. I would have much preferred a scripted lessons. I also found the directions confusing at times.
I also found it hard to get the
Student Manual
to correspond with the
Teacher's Edition
. The lessons are marked in the
Teacher's Edition
, but not marked in the
Student Manual
. I spent quite a bit of time trying to make sure that we had covered every page for every lesson.
I think the thing that stood out to me the most is that though it teaches about learning strengths it doesn't really address personality differences. If your child thrives on a lot of detail they will love this program, but a more relaxed child will probably find it overwhelming and too detail oriented.
I guess I can say I really struggled with the presentation of the whole program. There was a lot of good things that were taught and since finishing the program I have though a lot on how I could apply it more effectively with my children and in our learning atmosphere. Though recommended to be used at a fast pace for our homeschool I can see it being more beneficial to apply these ideas slowly.
Spending a few weeks on making goals and priorities, or working on note-taking, or learning test-taking skills, or applying PQRST would help my daughter to not be so overwhelmed and also help my son learn how apply all these ideas and not just get caught up in a method rather than learning valuable life and academic skills.
Victus Study Skill System
is suggested for 5th grade-12th grade. The
Teacher's Edition
is available for
$40.00
and the
Student Workbook
is available for
$20.00
.
Social media links for Victus Study Skills:
Facebook:
https://www.facebook.com/VictusStudySkillsSystem
Twitter:
https://twitter.com/VictusStudy