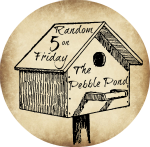 1. & 2. Thanksgiving ham and apple bars for dessert. 3. Opening an
Advent gift.4. We are reading Oliver Twist and one day I had to
read 8 chapters to them aloud since they had to hear 'just one more'.
5. New phone. 6. & 7. Snow!!!!
1. We woke up this morning to find snow falling. The kids bundled up and went outside for a little bit. Even though I grew up in the Mid-west I don't miss snow at all, especially since Oregonians don't know what to do in it or with it!
2. On Monday I remember that it was a new term and I wasn't prepared for it at all. I spent the next three days trying to get my plans finalized so I could print them off. Oh the joys of not being prepared!
4. We had a different Thanksgiving this year. We couldn't go and be with my husband's family due to my husband having to work Thanksgiving and the day after, so we stayed at home and invited a couple from church over. I decided to try my hand at making a
cheesecake
and had quite an adventure which resulted in making two cheesecakes. Yes, when I cook I always having interesting and at times stressful moments. (Even though I goofed when I made the first one it tasted fine and I was able to freeze the second one to eat later.)
5. Here are some random photos of things that have been happening around here since I missed a couple weeks of posting.
1. Chantry's turn for presentation. He did a book report on
Swallows & Amazons. 2. I'm not sure what prompted sunglasses for
eating dinner, but for some reason Delani thought she needed them.
3. I spent a couple of nights on the coast for a Woman's Conference.
4. Delani loving on her doll. 5. Destini's birthday gift finally
arrived from American Girl.